If you are always looking for some herbal remedies or natural skincare, you may have heard about Calendula officinalis flowers and their benefits for the skin. In this article you will read about the benefits of calendula officinalis flowers on the skin and if research studies support those benefits.
Calendula officinalis flower
Calendula officinalis also called pot marigold, is a flowering plant with beautiful yellow-orange flowers. For flower lovers, calendula is one of their favourites. It is very easy to grow in sunny locations in almost every kind of soil.
The leaves are edible. You can use them in your recipes such as salads. Some people use them as food colouring instead of saffron. They give you a very nice yellow-orange color. However they can not replace the aroma of saffron. Believe me! I always use saffron in my recipes and the aroma is the best. However, in terms of the colour, Calendula officinalis petals are perfect.
In many cultures in the world calendula flowers are considered a medicinal herb. They use them as a dye for fabrics, foods and cosmetics.
Calendula (Calendula officinalis) flowers have diverse biological activities. These flowers contain different compounds, pigments and essential oils. Therefore, many potential properties are attributed to the use of these flowers such as antifungal, antibacterial and anti-inflammatory properties.
Calendual officinalis is a beneficial plant for various skin conditions.
Calendula officinalis flower benefits for sun protection
In a research study, essential oils extracted from Calendula officinalis flowers have shown sun protection activity.
These essential oils have the potential to reduce or prevent oxidative stress and can be used in a skincare regimen to slow down skin ageing via its antioxidant properties.
Although for protection of skin against UV light, you have to apply a sunscreen with specific characteristics (at least SPF 30 ). The results of measuring Sun protection factor (SPF) show that these essential oils have sun protection activity. So they can be employed in sunscreen formulations to protect the skin from sunburn. Combining Calendula essential oil with other sun protecting agents provide a synergistic photoprotective effect or lift up the additional value of the cosmetic formulation.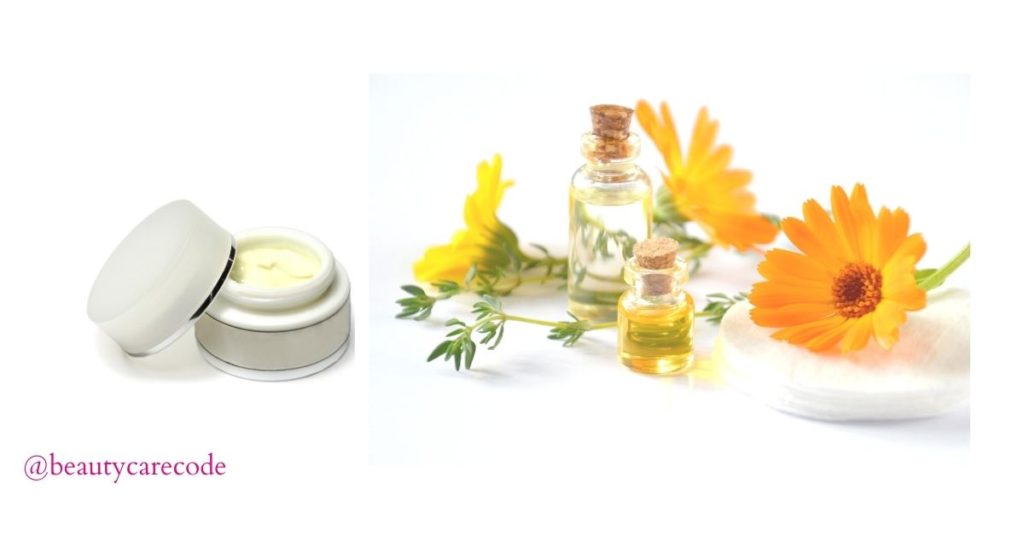 Calendula officinalis flower benefits for diaper rash
Diaper dermatitis or rash is a persistent challenge for young parents. Although the prevention and treatment need a series of routine practices such as regular diaper changes, air drying, barriers and cleansing, a natural-based treatment has been always of interest.
Research studies show that topical Calendula officinalis ointment improved the severity of diaper dermatitis in infants. Calendula was even significantly more effective than aloe vera. There is no report of adverse effects.
Calendula officinalis flower benefits for wound healing
Traditional medicine believes that Calendula officinalis flowers help scratches and shallow cuts to heal faster, and to help prevent infection.
Research studies show results in accordance with traditional medicine. Wound healing properties of the Calendula officinalis flowers are due to the known flowers constituents that present antibacterial and anti inflammatory effects.
Calendula officinalis flower benefits for dermatitis
Calendula officinalis flowers have anti-inflammatory properties as mentioned earlier. The ointment or the cream made from the Calendula officinalis flower extracted oil soothes itching and redness of the skin. It also helps to relieve dermatitis symptoms. Evidence from research studies is in accordance with traditional medicine.
Calendula officinalis flower benefits for acne
Calendula officinalis can be helpful in treating acne. Some studies show promising results about the efficacy of calendula extract in treating acne. The plant contains some phytoconstituents that show anti-bacterial, anti-inflammatory and anti-oxidation properties. Therefore these phytoconstituents can be the reason for the anti-acne activity of Calendula officinalis.
The herbal based treatment may work well for some people. If you have stubborn acne, you may consider Calendula officinalis based products as adjunct therapy not the replacement for your current treatments. You can cleanse your face with calendula cleanser. You may also apply a calendula moisturizer every day.
How to make Calendula cream?
There are some homemade recipes available for making calendula moisturizer creams and lotions. You may need to consider some times to extract the oil. The waiting time can be a few days to weeks. Anyway, making your own skincare products is very satisfying and at the same time very exciting.
This is one example of recipes from growforagecookferment.com.
Ingredients:
1 cup calendula infused oil
30 grams beeswax 4 Tbsp
1 cup tepid water
jars or tins to hold 2 cups
Preparation:
Make a double boiler by putting the calendula infused oil and beeswax in a heatproof bowl on top of the pot of water.
Heat until the beeswax melts completely into the oil. Then take off the heat.
Put the oil/wax mixture in your blender.
Cover the blender except for the hole to drizzle the liquids in. Turn it on and slowly drizzle the tepid water in. You may need to scrape down the sides of your blender once or twice to make sure all of the water gets incorporated.
I hope you enjoy being familiar with the benefits of these beautiful Calendula flowers. You even know how to incorporate the extracted oil in cream. Now you may even start making your own skincare products.
Let me know about your experiences and share your recipes.